Barrett chooses to fight Stage 4 cancer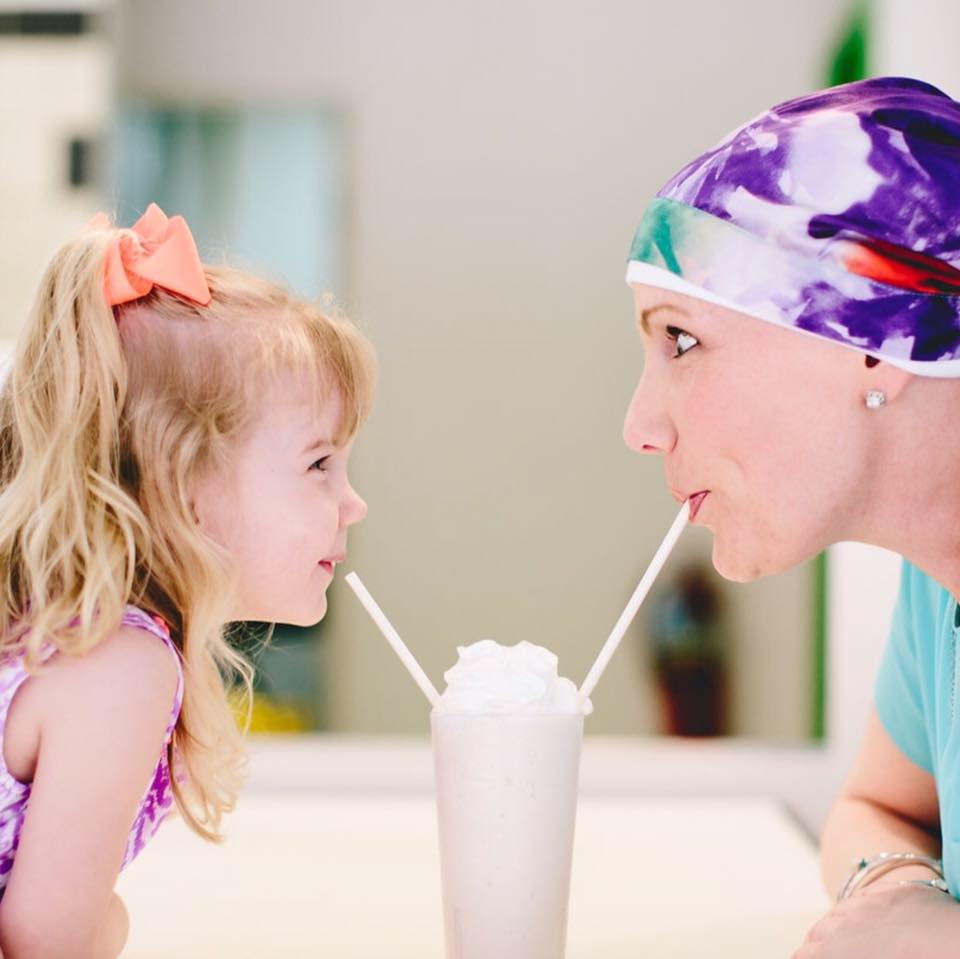 *Article originally published July 17, 2015
You Are My Sunshine from ParkLife on Vimeo.
When you are 28, married, living in a suburb of Chicago with your dream job and a baby on the way, it is easy to remain positive. But when you decide to get divorced, are riffed from your teaching position and learn that you have Stage 4 breast cancer by the time you are 29, you have a choice to make. Do you quit or do you fight?
Mahomet native Ashley Jensen Barrett decided to fight.
"When I was first diagnosed, I was just in disbelief," Barrett said. "What else is there? I've hit rock bottom as far as what I thought my life would look like. Like seriously, this (diagnosis) is almost mean. But that's also when it was time to pick it up. If this is what it is, then fine. I'm going to win, though. I'm not going to let things bring me down. I just need to bring quality into every day."
Barrett said that spunk to fight came from knowing she had a six-month old daughter, Avery, just waiting for her mom to be mommy.
"She came at the perfect time in my life because she made me a mother, which is something I've always really wanted," Barrett said. "She was my gift from God."
Almost a year after giving birth to Avery, Barrett had an oophorectomy, a surgery to remove her ovaries, as her cancer is one that feeds off of hormones.
Barrett's doctors believe she had breast cancer almost two years before becoming pregnant with Avery, and because the cancer is hormone-driven, the pregnancy helped the cancer spread rapidly. By the time Barrett was diagnosed at Stage 4, the cancer had spread into her bones, which was giving her back pain.
Initially, back pain in October of 2012 brought Barrett to the doctor. With a consistent pain in her back, which she and her doctor believed to be a cold, her doctor put her on a steroid to help fight a virus. When the steroid did not work, the doctor ordered a PET scan.
Around the same time, while visiting her OBGYN for an annual exam, Barrett was notified that she had two lumps in her breast. She received the MRI and a mammogram on the same day, and quickly learned about the cancer.
"There was no indication that there was anything wrong with my breast," she said. "I don't blame my doctor for not doing a breast exam. It was wild because as soon as I was diagnosed, I started noticing the symptoms. My breast were puckering, and you could see two lumps when I would lay down."
Barrett was given her first round of treatment, Tamoxifen, in January 2013. She said the drug, which is known to block estrogen, worked wonderfully until August when the cancer began to outsmart the drug.
From the very beginning, Barrett wanted to do a bilateral mastectomy to remove the breast tissue, but because that is not a standard treatment in Stage 4 breast cancer, it was not something the doctors looked at. Once she applied for and was not eligible for a clinical trial, which studied the effects of mastectomies on Stage 4 life span, her doctor, who Barrett said listens wonderfully, agreed to let her have the mastectomy. At that time, they also removed Barrett's ovaries.
While the mastectomy and reconstruction process varies for women, Barrett bounced back beautifully, returning home after three days, and completing reconstruction surgery within the next three months.
I'm not a sit down and wait kind of person," she said. "This is what we're going to do, and then let's do it. I'm not going to wait. I'm not going to be sad. I'm not going to feel sorry for myself. Because in my mind, it is a waste of time."
"I can sit and spend a couple hours being sad about it, but then I'm never going to get those hours back. If I have any limited time on this Earth because of my health, then I don't want to spend it being sad about it. I'd rather spend it doing something fun or funny with my daughter. Or hanging out with friends or family."
By January, Barrett learned the cancer was on the move again when doctors found a few spots on her liver. Immediately, she changed her diet to eliminate things known to cause cancer, such as gluten, dairy, beef, pork, caffeine and sugar. Instead she ate other proteins, greens and superfoods known to fight cancer.
Over the next couple of scans, things looked good for Barrett. While she was still receiving treatments at that time, the spring was pretty quiet. But then summer came, and after her three-month scan, she began to feel a tingle in her arm, but she didn't think much of it.
Avery was with Barrett's parents, Rex and Nancy Jensen, and she planned to join them in Mahomet the next day. While watching television that night, her hand went numb and became paralyzed. Then her whole right side became affected.
Living on the third floor of an apartment building in Chicago, Jensen put her shoes on and walked outside of her apartment in case she needed help. After she made it to the bottom of the stairs, she knew she could not drive, so she called her friend, who called 911, and Barrett was rushed to her local hospital.
She received an MRI, which showed the cancer had spread into her brain. Barrett was transferred to Rush Hospital where she receives her cancer treatment. At 10 a.m. the next morning she was in brain surgery to remove the tumor.
"The tumor in my brain was terrifying," she said. "After I got out of surgery, I was able to regain all my mobility and sensation, but not right away. I was essentially paralyzed in my right hand in the beginning. I couldn't lift it or bend my fingers."
Barrett said she just kept moving her hand and arm every time a nurse would come in to check her vitals because "I had to be able to put Avery's hair in a ponytail. As a single mom, that's my quality of raising my daughter. I need to be able to take care of her."
It took a week, but Barrett was able to put Avery's hair up again.
"That's probably the first time I was legitimately scared of my cancer because it is so powerful," she said.
Although the surgeon removed the tumor from Barrett's brain, she still underwent 10 rounds of radiation to kill any residual tumor that may have been missed. The radiation with the chemotherapy pill she was on at the time made Barrett not feel like herself anymore.
"The radiation was hard for me," she said. "It knocked me on my butt. Because it was brain and neck radiation. It essentially burned me. My head was peeling. I could not swallow solid foods because my throat was burned. I lost quite a bit of weight. I was just not feeling like myself."
It was at this time that Barrett began to lose her hair, too.
"That was more challenging than I thought," she said. "It's just hair. I had pretty long hair, though. Once I realized I was going to lose it, I wanted to take charge, just as I always do, and I donated 20 inches to Wigs for Kids. It was bittersweet. The day after I donated, it really began to fall out."
Barrett's friend, Angie, who has become like family, noticed a change in Barrett's outlook and scheduled a retreat at Miraval in Arizona in November 2014 so she could regain her strength and continue to fight.
Barrett spent the time reconnecting with herself, resting and spending some time writing on her blog, which she said has been a therapeutic outlet through this whole process.
"I receive so much support through my blog," she said. "Humbling is not the right word. And thank you doesn't cover the support I get from everyone. It's incredible to be honest."
She has also used natural methods, such as essential oils, massage and stretching to help heal her body.
"I like to think that I'm fighting it at all angles," she said.
Barrett's cancer is beginning to figure out what is going on, and she said it is starting to outsmart the treatments. In January, she was put on a medicine that will create a bypass of the endocrine system so that the hormones will go around and outsmart the cancer again.
This medicine has helped her feel like herself, but it comes with a hefty price tag. The medicine costs those who are uninsured $13,000 per month. Barrett has insurance, but even then, it still cost her $600 a month.
Barrett's mom knew there was a way around the cost, so she contacted the manufacturer, and was able to get the cost of the medication down to $25 a month for her daughter.
"My mom is the type of person who is completely selfless," Barrett said. "She will do anything for anyone, especially her family. She would take my cancer away if she could. It is limitless what she is capable of and willing to do for someone else."
Barrett said she has always been close to her mom, dad and sister, who lives in Urbana.
"You can just tell in my parent's faces how hard this is for them," she said. "I know it's something that weighs heavily on their mind. And I know it affects their health and their own day-to-day existence because I'm so important to them."
"That makes me a better parent, to be honest, because I realize now what it's like to want to be able to do anything you could possibly do to make your child healthy, successful and happy," she continued.
Barrett decided to move back to Mahomet in 2014 after living in the suburbs of Chicago on her own.
"I wanted to stay up there as long as I could because I didn't want anymore changes," she said. "I wanted to be in my house with my child and do my everyday things, and not have to change my life anymore than it had already been changed."
"After a couple years, I realized it would probably be even better for me if I could get a little more help every once in a while. It was just me and her for the most part. I have really great friends up there, but my family wasn't there."
Barrett said she is excited about her daughter growing up in the same small town she did. But right now, the two are just having a lot of fun together.
"I hear a lot from everyone that she is just like me," she said. "People who knew me growing up, they're constantly telling me that she is my spitting image, looks-wise and personality. She has a little bit of attitude, which I have been known to have a time or two."
While Avery, now 3, has no idea what is going on with her mother's illness, Barrett said she is constantly drawing strength and positive energy from her daughter.
"It's her existence that make it positive for me," she said. "I can't let myself get depressed and stay in bed because I have to get up and be mommy. I have to get up and make her breakfast. I have to put her hair in that ponytail I worked so hard to be able to do."
"I have faith that this is my path, and that this all means something," she continued. "It'll all tie back to something meaningful. I feel complete by having her. I feel like what I'm supposed to do with my life is be her mother."