An Open Letter to Cheryl Odle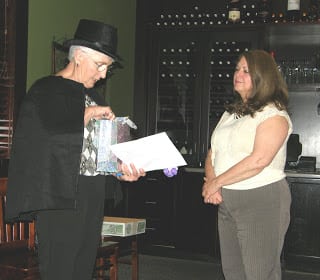 Dear Cheryl,
I'm am sorry for writing this to you publicly. I know it's not the right thing to do, but I just found out how sick you were three days ago. I went to Walgreens to buy you a card that sat in my car for more than 24 hours. I was going to ask Margaret if I could take one of her meal train days so I could make you a meal. I wanted to let you know how much I appreciate you and how sorry I am that you got sick, but I did not do that fast enough. You died on Monday before I could tell you any of this.
The truth is that I've known you for nearly 10 years now. You'd been a fantastic member of the Mahomet Women's Town and Country Club for a long time before I joined for a year or two in the mid-2000's. Then I had the pleasure of interviewing you several times about the work of Busey Bank and what you ladies were doing in the Women's Club. It was always a joy to sit next to you at the morning Chamber meetings, too. You loved to talk to people, and I knew I'd be welcome next to you.
I enjoyed seeing your welcoming face when I walked into Busey, whether it was just to chat, for personal finances or for one of the many functions you hosted during your time there. You introduced me to Emily Kroner's pies, and for that alone I will be forever grateful. But, Cheryl, your reach went far beyond that for me. And I should have told you that.
You were a spectacular host. You not only made sure the table setting was lovely, but you also made sure people enjoyed the time they were spending together. You found ways to bring people together around a meal to share ideas and visions for our community. You gave people a voice and a safe place to put their voice.
I know you brought friends and family members together in your home, too; you told me about it. And I know you were instrumental in bringing women together for activities in the Mahomet Area Women's Club. You were behind-the-scenes getting your hands dirty in whatever activity we had going on. You had an open door and an open heart. And I really very much so appreciate you sharing that with me and with our community.
I am sorry that you got sick, and that you had to go through everything you did the last few months. I honestly just thought you were living your dream of traveling with your husband and loving on your grandchildren. And I'm sorry that I did not articulate the goodness I saw you bringing into our lives all these years. I thought about it, but I got scared-of what I was scared of, I don't know. I'm sorry I didn't mail the card the moment I bought it; foolishly, I thought I had more time.
I know you're in a better place. But our community will miss having you here. I promise to bring people together and serve Emily's pies, too. I think that's something that definitely still needs to happen.
All my best,
Dani